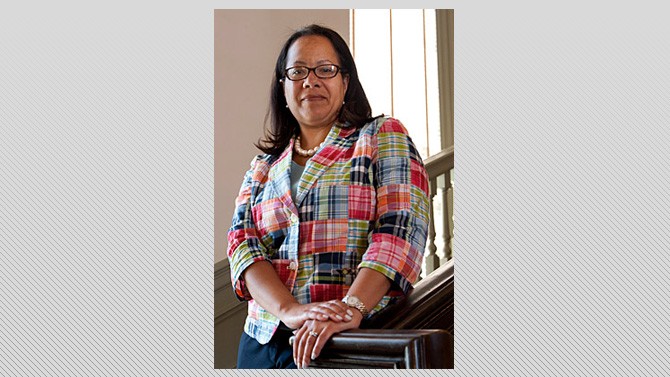 UDaily
Leadership award
Article by Ann Manser Photo by Kathy F. Atkinson November 07, 2016
UD's Erica Armstrong Dunbar honored by historians association
Erica Armstrong Dunbar, Blue and Gold Professor of Black American Studies and History at the University of Delaware, has received the Lorraine A. Williams Leadership Award from the Association of Black Women Historians.
The award honors a woman in education or a related area, such as archives, libraries, historical societies and museums, who is an outstanding scholar, administrator or teacher with demonstrated mentoring, organization-building and leadership skills.
Awardees are recognized for their ability to create and help sustain personal, professional and institutional networks that enhance the professional growth of other scholars and students.
The association cited Armstrong Dunbar's work as a faculty member and campus leader at UD, as well as her accomplishments as the first director of the Program in African American History Library at the Company of Philadelphia, the nation's oldest library. It noted that she is nationally and internationally known for her scholarship "while remaining intimately engaged with students, peers and friends."
Armstrong Dunbar is a recognized scholar whose work examines the lives of free and enslaved African American women in the early days of the United States.
A distinguished author, her much-anticipated new book, Never Caught: The President's Runaway Slave Woman, is a biographical study of Ona Judge Staines, George and Martha Washington's house slave who escaped to New Hampshire in 1796. The book is scheduled for publication by Simon and Schuster in February 2017.
Armstrong Dunbar has been named a distinguished lecturer by the Organization of American Historians and has received fellowships from the Ford Foundation, Mellon Foundation and Social Science Research Council.
She was presented the Williams Award at the annual luncheon of the Association of Black Women Historians, held in October in Richmond, Virginia.
Tiffany M. Gill, associate professor in UD's Department of Black American Studies, was the featured speaker at the luncheon. Her talk, and the meeting itself, focused on the theme of "Hallowed Ground: Sites of American Memory."
The University's College of Arts and Sciences was a sponsor of the meeting.