Are you interested in obtaining a PhD in the Humanities with an emphasis on African American/Africana Studies? Are you looking for graduate training that emphasizes public scholarship, community outreach, collections-based research, and digital humanities? The African American Public Humanities Initiative (AAPHI) provides stipend support for PhD students in History, English, and Art History in a five-year, 12month, cohort based program.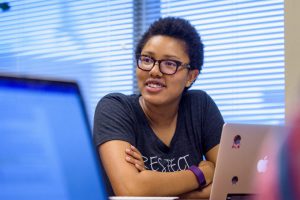 Benefits of the AAPHI Scholars Program:
Tuition remission and yearly stipend for five years

Professional Development funding of up to $2,000 per academic year to attend conferences and training
Summer research/internships funding of up to $4,500 per academic year
An internationally recognized faculty engaged in innovative research in digital scholarship, public humanities, and material culture studies.
UD's campus is located mid-way between NYC and DC, close to Philadelphia and about an hour from Baltimore. In other words, it sits in the middle of one of the most important cultural hubs in the world
Ready for more information?  Interest Form
The AAPHI Program welcomes our new director, Colette Gaiter. Gaiter is a Professor in the Departments of Africana Studies and Art & Design at the University of Delaware. After working in graphic design in New York City, she became an educator, artist, and writer. Her visual work, exhibited internationally, covers a range of media and forms, including artist books. Since 2005, she writes about former Black Panther artist Emory Douglas's work, including his current international human rights artist activism. Her essays on his work appear in Black Panther: The Revolutionary Art of Emory Douglas (for which she wrote new introductions to the 2014 edition and current third edition), and other books and publications. The 2022 book The Black Experience in Design includes her interview with Emory Douglas and essay on evolving visual literacy. The Norman Rockwell museum's book Imprinted: Illustrating Race contains her essay on the Black Panther newspaper illustrators. After numerous trips to Cuba before the global pandemic, she wrote about Afro-Cuban art, design, and culture—especially relating to issues of race. Her visual work and writing investigate creative activism.
Ready to Apply?:
Step 1: Contact the department for which you will be applying to a PhD program to confirm dates & application process.
Step 2: Create an account in the UD Slate System to apply to your program of choice.
Please check the department website for application deadlines for the program to which you are applying.
Department of Art History        Deadline for application to program:  January 5, 2024

Department of English             Deadline for application to program:  January 5, 2024

Department of History              Deadline for application to program:  January 5, 2024

Please be sure to select the African American Public Humanities Initiative tab on the departmental application to express your interest and to be considered for this program.  You will also be required to submit a brief, supplemental essay.  You will then be contacted by the AAPHI program.