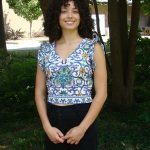 Hannah Grantham is a first-year doctoral student in the University of Delaware's History Department and African American Public Humanities Initiative fellowship program. A lifelong learner and musician, Grantham began familiarizing herself with music and its history as a child growing up in Durham, North Carolina. Since leaving Durham, she has earned degrees in music from the Universities of North Texas and South Dakota, where she studied jazz and the history of musical instruments.
While obtaining these degrees, Grantham enhanced her classroom learning by working in a library preservation lab, a music library cataloging office, and various museums, including the National Music Museum. In these settings, she developed skills in applying her music knowledge. After emerging from these student experiences, she continued developing her public musicology and museum work skills by working with music collections in cultural heritage organizations across the country. In particular, she has focused on documenting, preserving, and interpreting African American musical history at organizations through curatorial positions at Motown Museum and the Smithsonian Institution's National Museum of African American History and Culture.
After spending a few years in the workforce, Grantham is excited to continue her education at the University of Delaware. While a student, she plans to enhance her skillset as a curator and public historian by participating in the Museum Studies program and African American Public Humanities Initiative. Grantham looks forward to using what she learns at UD to inform her ongoing examination of women of color working in jazz and their material culture preserved in museums, archives, or family homes. By using these objects and things as primary sources, she plans to explore what they reveal about these women's lives, their thinking and creativity, their influence, the obstacles they faced, and how they operated within the American music industry.